There are three ways to renew your books timely to avoid fines which are given below:
Online Renewal through Library Portal.
Present your books physically at the circulation desk.
Send an email at circulation@lums.edu.pk
To renew your books online you have to follow a simple procedure.
Click on http://libraryportal.lums.edu.pk/ or the image below to start Library iPortal
Enter your valid Patron ID and Password to renew your book(s). Click here to see the LUMS Library patron ID scheme.
Books with the following statuses may not be renewed:
Course reserve
Over Due
On Hold
Recalled
Special loans
You will not be able to renew your books online if you have accumulated a fine of more than 5000 rupees.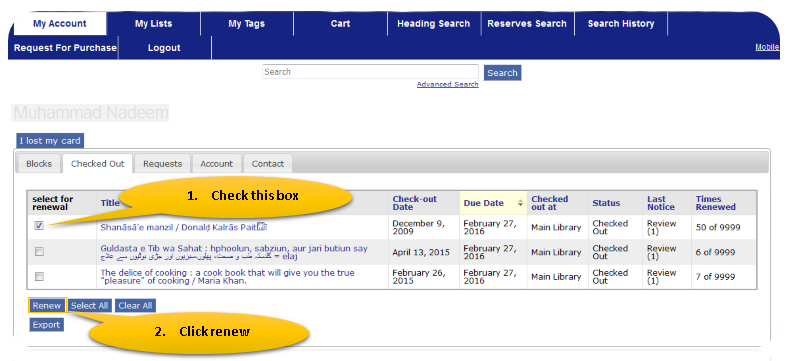 Online Holds
If your desired item is checked out by any other member, you can place a hold request so that when this book is returned by the patron, someone else doesn't get this book issued. You will also be notified by a system generated email to pick the item from the library.
Click on the image below to start Library iPortal, or copy and paste the following link http://libraryportal.lums.edu.pk/.
Enter your valid patron ID) and Password to request for hold(s).
Check if the book is already issued to any other member.
Press the request button to place the item on hold.